Not just a fabric producer…
ARNIA is a new project that employs disadvantages workers in producing sustainable Fabrics.
We are an Italian Converter and Producer of CONTEMPORARY & SUSTAINABLE FABRICS
We are an authorized Type B social cooperative and at least 30% of its workforce is made up of disadvantaged workers.
The main objective of Arnia is valorize and introduce / reintroduce persons with both social & economic difficulties back into the workforce by offering them employment & teaching them new skills in the Italian textile industry.
The company specializes in CONTEMPORARY FABRICS to service the international fashion industry. We produce high end fancy novelties, eyelets, prints, embroideries and plains often combined with different finishes, laminated, coated or printed.
Our fabrics are always characterized by their modern aesthetics, and our strength is in our communication, quick deliveries and stock service.
Amazing Fabrics with a Social Heart
Arnia is an authorized Type B social cooperative that employs, where technically possible, disadvantaged workers by at least 30%.
In line with our principles Arnia favors work, reintegration and social rescue of detainees and former detainees, as well as other workers in difficulty.
The Company is specialized in CONTEMPORARY FABRICS: high end fancy novelties, eyelets, prints, embroideries and jacquards, often combined with different finishing, laminating & printing techniques …. always well characterized by their aesthetic study.
We work with International Emerging Contemporary Brands
Quality, Price and Flexibility are the forefront of ARNIA TEXTILE products & services – whilst continuing to offer work to disadvantaged people in our local community.
Thanks to our partnerships we can share a large archive of woven jacquards in acetate, silk, viscose, polyester, cotton and blends.
We can develop new jacquard projects as well as print developments (digital, screen and rotary), on silk, viscose, polyester, cotton.
We foil print, bond, burnout, quilt, embroider, needlepunch, punch cut, lasercut and pleated fabrics – with standard or customized patterns.
We can offer a large range of IMPORTED plain base clothes – often available on stock for immediate delivery (shipment in 2 / 4 days – just to prepare, inspect and pack the goods) – as well as refined solid base cloths woven, dyed and finished in Italy.
Also available to dye in customers own colors.
OUR RANGE / WHAT WE CAN PROVIDE
Eyelet Embroidery / Broderie Anglais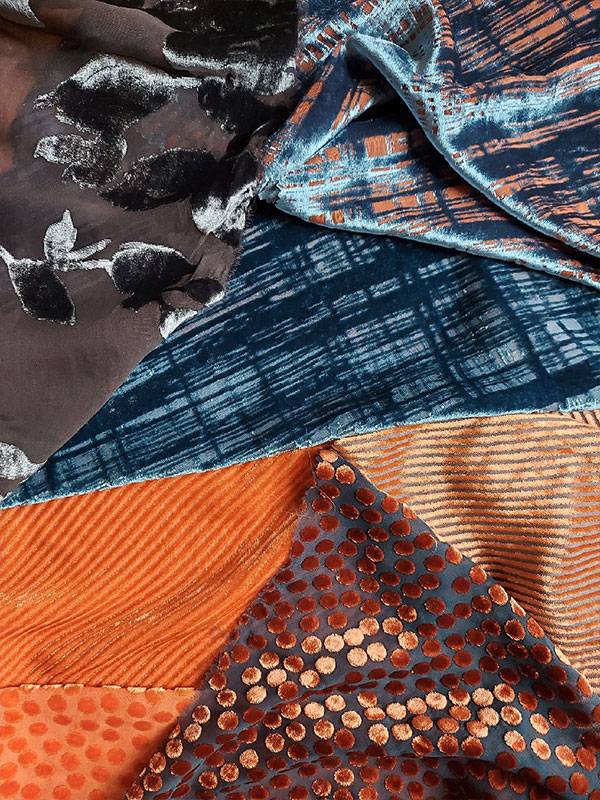 Textile
High-end refined Contemporary Fabrics, characterized by aesthetic research and development aimed at the so-called international Contemporary Emerging Brands.